PFAS/PFOA Forever Chemicals
Learn more about the impact of PFOA/PFAS forever chemicals, their impact on your family, and what Integrity Water Solutions can do to keep you safe.

What are PFAS/PFOA "Forever Chemicals"?
Perfluorooctanoic acid or PFOA and perfluorooctanesulfonic acid or PFOS are two chemicals commonly referred to as "forever chemicals". They are man-made substances that, for a long time, were used in industrial, manufacturing and consumer goods. According to the Environmental Protection Agency, the chemicals do not break down, and can accumulate over time. The good news, is there are water treatment options to protect you and your family from these chemicals.
Common Uses for PFAS/PFOA
Non-stick cooking surfaces
Some paint
Cardboard Goods
Stain Guard
Firefighting foam
... and more
PFAS/PFOA Effects On Your Health
While the research on these harmful chemicals is still very new and we do not conclusively know the effects, the CDC has offered some insight via this report. This report includes a research study done on humans to determine the percentage of humans exposed to PFAS/PFOA chemicals and concluded that the majority of those tested had at least some exposure to them. Since the research is so new, there are not currently any regulations in place for water supplies, however the EPA has published a health advisory indicating that amounts of PFOA/PFAS over 70 parts per million are not safe for our health.
What Can I Do?
To reduce your exposure to PFOA/PFAS chemicals, you can turn to bottled water options or install an in-home water treatment option. Due to the expensive and cumbersome nature of using bottled water for all water consumption needs, we recommend doing your research on in-home water treatment options. A point-of-use drinking water treatment solution is recommended by Integrity Water Solutions, and we offer a solution that is certified to remove PFOA/PFAS chemicals.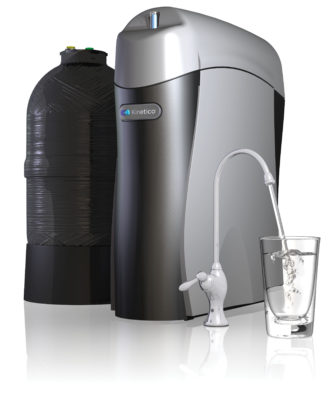 KINETICO K5 DRINKING WATER STATION®
The K5 is our best water treatment option. The K5 Drinking Water Station is third-party certified by the Water Quality Association to NSF/ANSI Standard 58 for PFOS/PFOA removal. In addition to being certified for PFOS/PFOA, the K5 drastically reduces other contaminants in your water, eliminates odors and foul tastes and can be customized to your family's specific needs.
Please Call Us today or click the button below to schedule your free water test and learn more about the K5 Drinking Water Station.